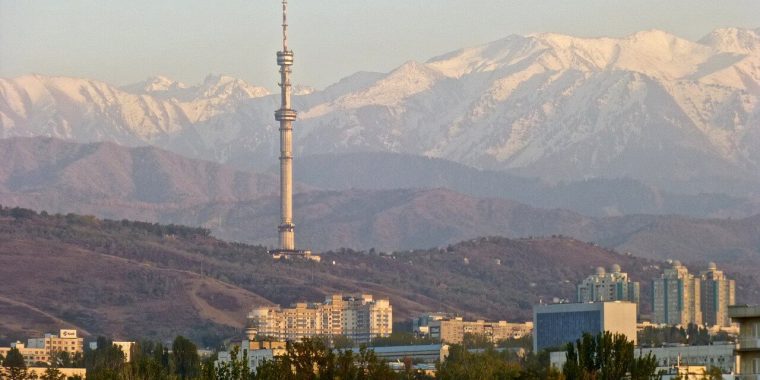 If you ask any Kazakh to pick their favorite city between Nur-Sultan (Astana) and Almaty, the majority will opt for the latter. And when you ask them for the reason, the replies may run as complex as the history of Almaty, and as simple as "it's just more beautiful".
So when I finally got the chance to visit Almaty, it made sense to indulge in a comparison with Nur-Sultan. After all, mine was a peculiar case — most visitors to Kazakhstan tend to have Almaty as their first point of entry.
Yours truly, on the other hand, had already been in Nur-Sultan for months before finally heading towards Almaty.
Before Anything Else — Almaty International Airport
Upon my arrival to Almaty, the first thing I noticed was the really tiny airport. This is nothing out of the ordinary for this region though — Tbilisi, Baku, Tashkent, Nur-Sultan, et al — most of the "major" airports in this part of the world are smaller than you'd imagine.
However, Almaty is a special case. For an airport so small with just one terminal, it somehow still manages to be ultra chaotic and confusing. Here are some observations:
True, there is just one terminal. But if you are changing flights, be prepared to run around the place in distress — especially if it's your first visit to the airport. Half the departure area is on the first floor; the other half is also on the same floor, but the entrance is concealed very well.
The Air Astana Business Class lounge is dismal. But that is not all — it is perhaps the first (and only) Business Class lounge where you have to pay for everything, including snacks. So essentially, Business Class travelers at this particular airport only get the added advantage of slightly cleaner and bigger seats. Thirsty? Go buy some water.

In comparison, Air Astana's lounge at Nur-Sultan airport is impressive and fairly stellar. And yes, you do not need to pay for water.

The arrival area is no better, as the exits are oddly located all over the place and the best thing to do is just follow the other passengers who, probably, know what they are doing.
Perhaps it was just me, but the Almaty airport really failed to impress. The only solace was the fact that the runway looks stunning, with mountains in the background.
But then, it is unfair to judge a city by its airport. So, let's carry forward.
The City Itself — First Impressions
For a city that has earned the majority of its credentials by being a tourist hub, Almaty sure can use some more hotels. Not here to nitpick, but if you are planning to stay in Almaty for any duration that's longer than just a weekend, you will probably be better off with Airbnb or a similar service.
The larger (read: "luxury") hotels in this city are, generally speaking, below par. In fact, when compared to Nur-Sultan, Almaty's hospitality industry seems to still be a decade behind. Perhaps because most of the hotels in the left part of Nur-Sultan were built in recent years?
Pro Tip: Depending on the time of year, Almaty's hotels might be booked beyond capacity. A good idea is to book well in advance and double-check prior to arrival.
The next thing of note is the transport system. Much like the rest of Kazakhstan, you can take the "unofficial" taxi system by hitchhiking your way through the passing cars, or you can use something like Yandex Taxi. And then, the city bus system always remains an option too.
But unlike Nur-Sultan, Almaty has a fairly well-functioning and planned out metro system that connects to almost the entirety of this city.
Another Pro Tip: If you're looking to travel within the city limits in Almaty, it is a wiser idea to use the metro system in lieu of taxis which are, in general, overpriced.
The Mountains!!
This is where you understand the real reason behind all the hype surrounding Almaty. When it comes to sheer beauty of landscape, Almaty eats most other major cities of CIS for lunch.
The Ile Alatau, part of the northern Tian Shan mountain system, stretches for around 350 kilometres. Ile Alatau happens to be the northernmost mountain range of Tian Shan, and Almaty finds itself located at its foothills.
With mountains all around, and a rather good-looking scenic placement of houses and monuments, coupled with a bustling set of markets and pavements, Almaty has everything a tourist might ask for. In fact, if I were to be subjectively biased, Almaty looks a million dollars better than other touristic metropolitan places in the CIS region.
I was there for a business visit, so the bulk of my days were spent at the Alatau SEZ. However, I took a weekend excursion to the mountains — the Medeu Valley in general and the Shymbulak Resort in particular.
Nonetheless, I am not much of an "above sea level" person, and I'd take islands over mountains anyday. That said, Almaty should be in the shortlist of anyone who is fond of hilly areas and related stuff.
The Roads (and the Traffic)
When you're in Almaty, you should expect somewhat higher than normal traffic on the roads. This is obvious, considering the fact that it is Kazakhstan's biggest city.
However, the traffic is not just high, it is abnormally high. For a city with an official population of just 1.78 million residents, Almaty sure has its streets and roads insanely crowded.
This can be attributed to the fact that most of the people on the streets are tourists, followed by workers/students from the rest of Kazakhstan.
This can make walking on the roadside a joy for some — too many people, so casual strolls are, well…. casual! And a pain for others — tourists in Almaty have a tendency to stop in the middle of nowhere and start clicking photos. Same applies to driving — being stuck at traffic signals is not an ideal way to spend your time, but hey…. You will get to enjoy the scenic views of the city as you wait for the traffic to move.
Summing it up…
This is perhaps the most ambiguous travelogue I have ever written. Partly because my visit to a touristic place was primarily for work, and partly due to the fact that time and again, I was (and still am) tempted to compare Almaty with Nur-Sultan.
In essence, this desire to compare hinders me from putting together a non-diluted picture of Almaty as a city.
As already mentioned, the majority of folks in Kazakhstan prefer Almaty over Nur-Sultan, for various reasons. The city is greener, calmer, more serene, and overall promises a more peaceful way of life. Yes, all of it is true; these reasons are valid.
But for me, Nur-Sultan seems to rank higher than Almaty. Maybe it's just because the former has less traffic (and less people, in general), and having grown up in an overpopulated city, I value quiet roads a lot. Sure, there is hardly any greenery around in Nur-Sultan, and a "planned" city (that still suffers from the occasional traffic jams) can probably not outwit the eyecandy mountainous enigma that is Almaty. But living in Nur-Sultan is like being in a Kazakh-focused melting pot — you can meet people from virtually any part of Kazakhstan with very little effort.
So for what it's worth, Almaty is the kind of city I'd visit, spend some time, and calmly exit. Nur-Sultan, on the other hand, is the type of place where I can "live", at least if/when I am in the Central Asian part of the world.